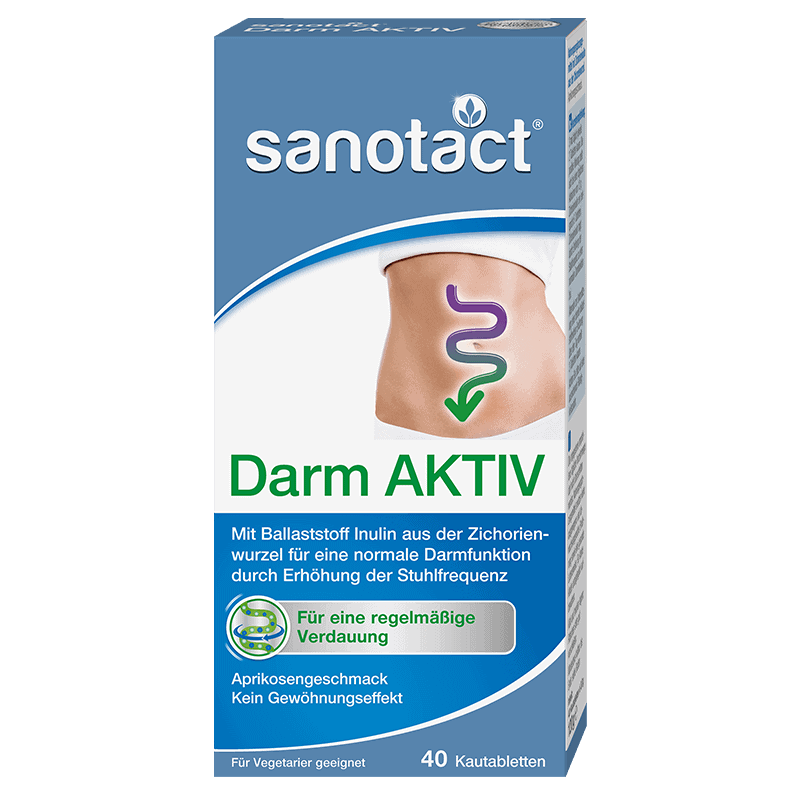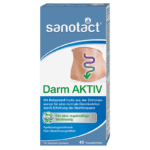 sanotact® Active Digest Chewable Tablets support regular digestion through the dietary fibre inulin by increasing stool frequency.
Intestinal health affects us all
The intestine fulfils the vital function of digestion and, with a surface area of 400 m², is the largest organ of the human body. In addition, an important part of the immune system is located in the intestine – 70% of the body's resilience is here. Thus, normal digestion plays a central role in maintaining the body's overall health.
Therefore, a healthy diet rich in vitamins, minerals and fibre should be followed. Dietary fibre is fibre that our body cannot digest but which nevertheless plays an important role in the diet. It helps the intestine to function.
Vegetable products such as legumes, cereals and soft fruits are particularly rich in dietary fibre. The Deutsche Gesellschaft für Ernährung e. V. (DGE) [German Society for Nutrition] states the following as a guideline for daily intake (DGE) recommends at least 30 g of dietary fibre for adults. This can be achieved by consuming 3 slices of wholegrain bread, 3 potatoes, 3 portions of vegetables (e.g. 200 g of cauliflower, 1 carrot and 100 g of leafy greens) and 2 portions of fruit (e.g. a banana-raspberry smoothie).
However, those with certain dietary habits often do not get enough fibre-rich foods. In addition to an unbalanced diet, there are often other factors such as lack of exercise, too little fluid or everyday stress. All these situations and conditions can lead to a sluggish bowel and thus irregular digestion. Therefore, it is particularly important to provide additional support for the intestines during difficult phases in order to avoid digestive problems and promote regular digestion.
Support the intestinal function without a build up of tolerance
To support intestinal function, sanotact® Active Digest Chewable Tablets use the dietary fibre inulin from chicory root, which increases stool frequency and thus supports intestinal activity. The chewable tablets are also suitable for long-term use, as they do not lead to a build up of tolerance.
sanotact® Active Digest is free from colourings and animal ingredients, and is also gluten-free and lactose-free.
chicory root inulin (75 %), dextrose, psyllium powder, apricot fruit powder, fully hydrogenated vegetable fat (rapeseed), acid citric acid, anti-caking agent silicon dioxide, anti-caking agent magnesium salts of fatty acids, flavouring
Chew 2 tablets 3 times a day. The positive effect is achieved with a daily intake of 12 g chicory inulin (equivalent to 6 tablets). Chicory inulin contributes to normal bowel function by increasing stool frequency.
To support an already high-fibre diet, chew 3 tablets throughout the day. Please make sure you drink enough fluids.
Do not exceed the recommended daily intake stated.
Food supplements do not replace a balanced, varied diet and healthy lifestyle.
Keep out of reach of small children.
| Nutritional information | per 3 tablets | per 6 tablets |
| --- | --- | --- |
| Fibre inulin from chicory root | 6.0 g | 12.0 g |
sanotact® quality... guaranteed!
Our quality standards
As a manufacturer of food supplements, we meet the most stringent requirements when it comes to food safety. Certification according to the International Food Standard (IFS) at Higher Level is therefore both a promise and an obligation for us. Furthermore, as a manufacturing company, we have our own high quality standards. On a daily basis, we endeavour to live up to these standards at our production site in Münster (Germany).
Our quality promise
We ensure the seamless monitoring of our entire production process. From the raw material to the finished product, the quality of the products is checked at all stages of production in our own laboratory. This is because we are committed to ensuring that our products offer the highest level of quality and safety for our customers. Our quality guarantee is a promise that we make to earn our customers' trust.
Making sure you are happy
We really hope that our brand and our products are everything you need and have been hoping for. This is what we are endeavouring to achieve now and we will continue to do so in the future. Nothing makes us happier than keeping you happy! We are always grateful to you for passing on your comments and suggestions to us. This enables us to take your needs into consideration when developing products in the future wherever possible.
Digestion and intolerances
When your gut feeling isn't right
The digestive tract of an adult human being is up to nine metres long. Our food usually passes through it without us noticing. We only become aware of our digestive system when it causes problems. Find out what can cause these problems in our advice.