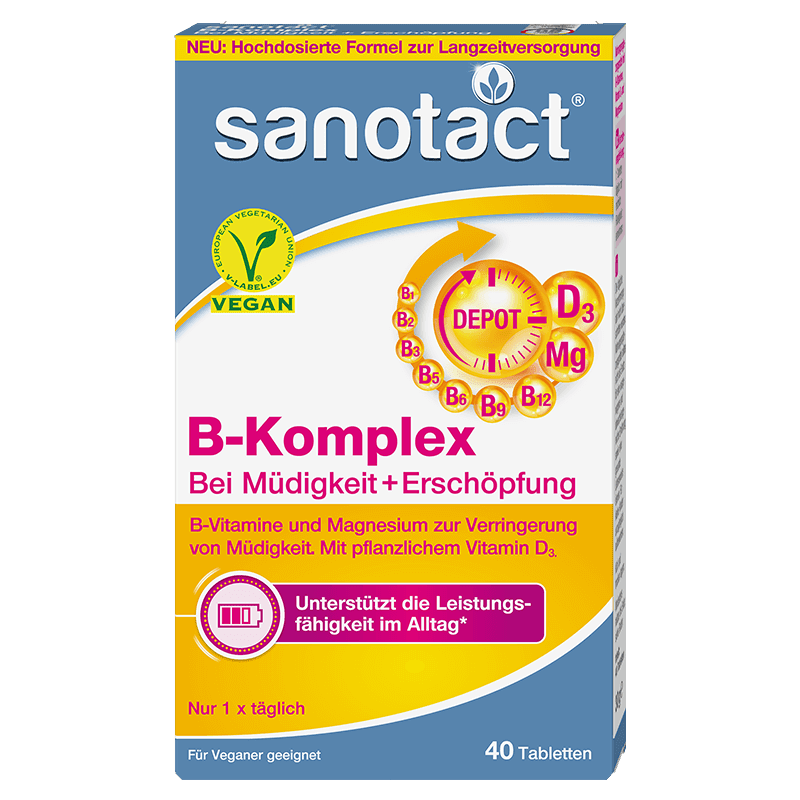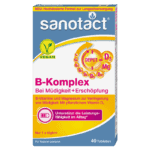 B-Complex + Magnesium for tiredness and fatigue
sanotact B-Complex + Magnesium for tiredness and fatigue
People who are in the prime of life face many different challenges in everyday life, in their family life and at work. Stressful situations, combined with an unbalanced diet, can lead to the body, and especially our brain, lacking important nutrients. We feel tired and worn out.
The nutrient formula of sanotact® Vitamin B-Complex + Magnesium Tablets for tiredness and fatigue can help to cover this need, while at the same time keeping energy metabolism in balance and supporting well-being.
Pantothenic acid, vitamin B6, vitamin B12 and magnesium contribute to a reduction in tiredness and fatigue and to normal energy metabolism. Folic acid also helps reduce tiredness and fatigue. Pantothenic acid also supports normal mental performance. Vitamin B6, vitamin B12 and magnesium are additionally involved in the normal function of the nervous system and, together with folic acid, contribute to normal mental function. Vitamin B6 contributes to the regulation of hormonal activity.
Vitamin D3, also called the "sun vitamin", can only be produced by the body itself if the skin gets enough sunlight. Particularly in the dark winter months or when too little time is spent outdoors, the body does not produce enough of its own vitamin D3 and supplementation may be useful.
sanotact® Vitamin B-Complex + Magnesium Tablets for tiredness and fatigue are free from fructose, flavourings, colourings, added sugar and animal ingredients, and are also gluten-free and lactose-free.
The product is suitable for a vegan diet. The V label is a standardised quality seal of the European Vegetarian Union that identifies vegetarian and vegan products. The label guarantees that no animal ingredients are used in the entire production process or in the product.
bulking agent calcium phosphate, magnesium oxide, bulking agent microcrystalline cellulose, fully hydrogenated vegetable fats (rapeseed, coconut, palm), anti-caking agents silicon dioxide and magnesium salts of fatty acids, calcium D-pantothenate, maltodextrin, pyridoxine hydrochloride (vitamin B6), pteroylmonoglutamic acid (folic acid), cyanocobalamin (vitamin B12)
Swallow one tablet a day with plenty of liquid.
Do not exceed the recommended daily intake stated. Food supplements do not replace a balanced, varied diet and healthy lifestyle.
Keep out of reach of small children.
| Nutritional information | per tablet | NRV* |
| --- | --- | --- |
| Pantothenic acid | 6.0 mg | 100% |
| Vitamin B6 | 1.4 mg | 100% |
| Folic acid | 200 µg | 100% |
| Vitamin B12 | 2.5 µg | 100% |
| Magnesium | 150 mg | 40% |
* NRV: Reference quantity according to EU Food Information Regulation
sanotact® quality... guaranteed!
Our quality standards
As a manufacturer of food supplements, we meet the most stringent requirements when it comes to food safety. Certification according to the International Food Standard (IFS) at Higher Level is therefore both a promise and an obligation for us. Furthermore, as a manufacturing company, we have our own high quality standards. On a daily basis, we endeavour to live up to these standards at our production site in Münster (Germany).
Our quality promise
We ensure the seamless monitoring of our entire production process. From the raw material to the finished product, the quality of the products is checked at all stages of production in our own laboratory. This is because we are committed to ensuring that our products offer the highest level of quality and safety for our customers. Our quality guarantee is a promise that we make to earn our customers' trust.
Making sure you are happy
We really hope that our brand and our products are everything you need and have been hoping for. This is what we are endeavouring to achieve now and we will continue to do so in the future. Nothing makes us happier than keeping you happy! We are always grateful to you for passing on your comments and suggestions to us. This enables us to take your needs into consideration when developing products in the future wherever possible.
Energy and performance
When your body needs a break
We are used to giving our all in every area of life; rest and recovery phases, on the other hand, are often neglected. Such stressful situations, which often go hand in hand with particular eating habits, can lead to our bodies developing an increased need for nutrients.