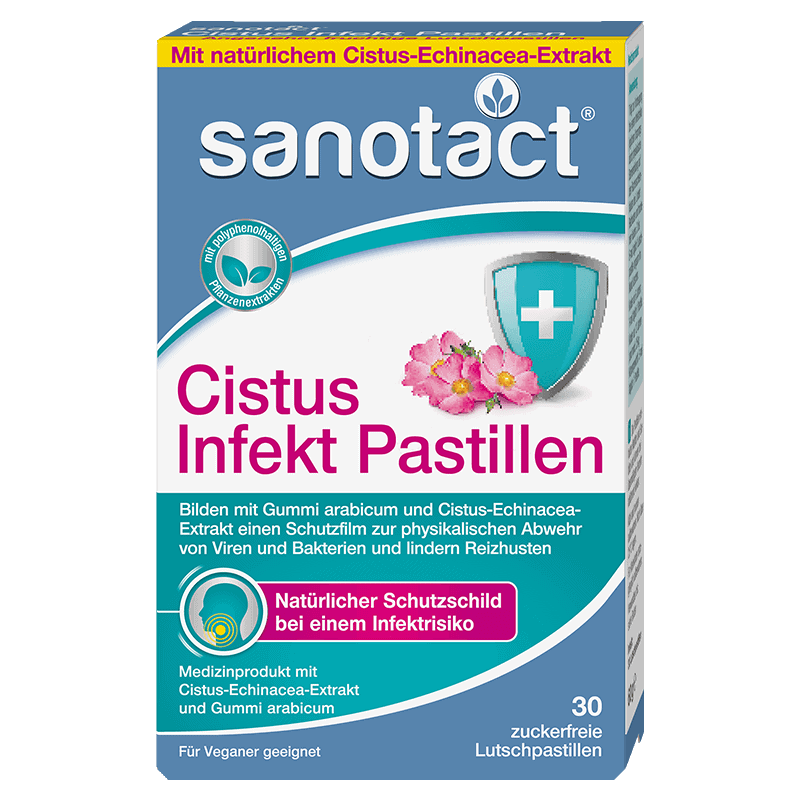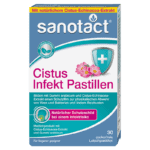 Natural protective shield in the event of an infection risk
Good companions, especially for the cold season
We all know the challenge. The cold season is coming and people around you are coughing or sneezing and you don't feel like catching a nasty infection yourself. A cold is often accompanied by respiratory illnesses that bring with them coughs and sore throats. Other infectious risks, such as Covid-19, have negative effects on the throat and pharynx. Some representatives from the plant world have proven to be good companions.
Cistus (Latin: Cistus creticus), for example, was regularly used in Mediterranean medicine in pre-Christian times. Even today, the local rural population still prepares tea from cistus leaves – to help to ward off respiratory tract infections.
Echinacea purpurea, known to amateur gardeners as coneflower, has been used for hundreds of years as a medicinal plant by the indigenous people in North America. The Native Americans used echinacea for coughs and sore throats. European settlers quickly recognised its potential and so the plant was brought to Europe. It has also been used in Europe since the late 18th century.
Active defence against infection
sanotact® Cold Defence Pastilles has a very special mode of action with its ingredients gum arabic/Cistus echinacea. The active complex covers the mucous membranes of the mouth and throat like a protective shield. This barrier serves as a physical defence against viruses and bacteria and prevents them from entering the body's cells. The further reproduction of harmful organisms is thus prevented and the development of disease is prevented. Thanks to its physical effect, there is no risk of developing resistance. Regularly taking sanotact® Cold Defence Pastilles in times of risk of infection helps the body defend itself against viruses and bacteria by forming a physical protective barrier on the pharyngeal mucous membranes.
Gum arabic also relieves chesty and dry coughs. The pastilles can therefore be used not only for acute problems, but as cough pastilles at the first sign of a scratchy throat.
The sugar-free lozenges have a pleasant fruit-mint taste and are vegan. They are free from preservatives, colourings and sugar, and are also gluten-free and lactose-free.
maltitol, sorbitol, purified water, L-ascorbic acid, citric acid, flavouring, peppermint oil, vegetable oil, acesulfame K
Slowly suck 1 lozenge 3 to 6 times a day (every 2 hours).
Children from 6 years: 1 pastille 1x a day.
Children from 12 years (and at least 25 kg body weight): 1 pastilles 3x a day.
| Active substance | per 1 lozenge |
| --- | --- |
| acacia gum, cistus/echinaceaextract | 840 mg |
sanotact® quality... guaranteed!
Our quality standards
As a manufacturer of food supplements, we meet the most stringent requirements when it comes to food safety. Certification according to the International Food Standard (IFS) at Higher Level is therefore both a promise and an obligation for us. Furthermore, as a manufacturing company, we have our own high quality standards. On a daily basis, we endeavour to live up to these standards at our production site in Münster (Germany).
Our quality promise
We ensure the seamless monitoring of our entire production process. From the raw material to the finished product, the quality of the products is checked at all stages of production in our own laboratory. This is because we are committed to ensuring that our products offer the highest level of quality and safety for our customers. Our quality guarantee is a promise that we make to earn our customers' trust.
Making sure you are happy
We really hope that our brand and our products are everything you need and have been hoping for. This is what we are endeavouring to achieve now and we will continue to do so in the future. Nothing makes us happier than keeping you happy! We are always grateful to you for passing on your comments and suggestions to us. This enables us to take your needs into consideration when developing products in the future wherever possible.
Immune system and colds
THE IMMUNE SYSTEM
Did you know that male 16 to 20-year-olds in Germany are the only population group that gets all nutrients in sufficient quantities through food? This is because adolescents eat such large quantities of food every day that this alone covers their needs.