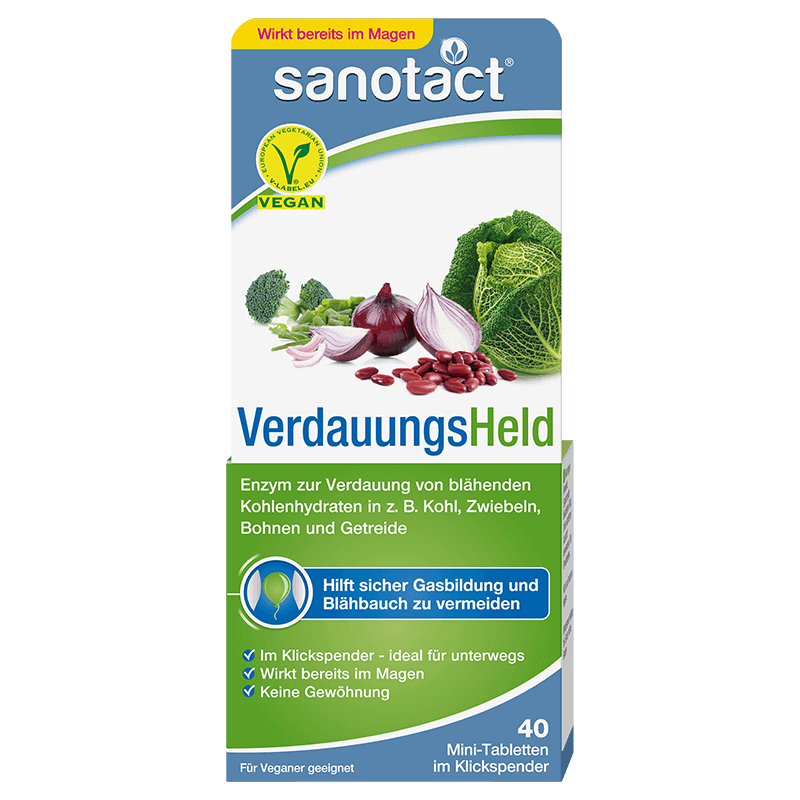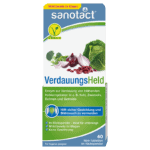 sanotact® DigestionEnzyme with an enzyme for the digestion of carbohydrates in cereals, vegetables and legumes.
Bloating carbohydrates cause digestive problems
A spontaneous meal out, certain eating habits or even food specialities consumed when travelling in other countries can really upset our stomachs. Even choosing from the menu in a canteen can quickly turn into a stressful situation if you react sensitively to flatulent carbohydrates such as cabbage, onions or beans.
This unrest can manifest itself in the form of a bloated belly or even unpleasant gas in the abdomen. The reason is that many people cannot adequately digest the medium-chain carbohydrates, also called oligosaccharides, contained in numerous foods. This can not only lead to flatulence, which is caused by insufficient fermentation of these carbohydrates in the large intestine by bacteria, but also to an unpleasant tummy ache. As a result, many people are forced to eliminate foods such as legumes, certain types of cabbage and some fruits from their diet. Certain products that counteract these digestive problems can provide relief.
Preventing a bloated belly
sanotact® DigestionEnzyme Mini Tablets with the enzyme alpha-galactosidase have been specially developed to promote the digestion of medium-chain carbohydrates. The mini tablets orally supply the enzyme alpha-galactosidase, which is necessary for the easier utilisation of the galactooligosaccharides , so that typical digestive complaints such as flatulence or abdominal pain can be avoided. At the same time, they do not lead to a build up of tolerance.
sanotact® DigestionEnzyme Mini Tablets are free from flavourings, animal ingredients, lactose and gluten.
The product is suitable for a vegan diet. The V label is a standardised quality seal of the European Vegetarian Union that identifies vegetarian and vegan products. The label guarantees that no animal ingredients are used in the entire production process or in the product.
bulking agent calcium phosphate, Alpha-galactosidase (20 %), bulking agent microcrystalline cellulose, anti-caking agent silicon dioxide and magnesium salts of fatty acids
Swallow 1 sanotact® DigestionEnzyme tablet immediately before or during meals containing galactooligosaccharides. To be taken with fluids if necessary.
| Nutritional information | per tablet |
| --- | --- |
| Alpha-galactosidase | 20 mg (600 GaIU*) |
* NRV: Reference quantity according to EU Food Information Regulation
sanotact® quality... guaranteed!
Our quality standards
As a manufacturer of food supplements, we meet the most stringent requirements when it comes to food safety. Certification according to the International Food Standard (IFS) at Higher Level is therefore both a promise and an obligation for us. Furthermore, as a manufacturing company, we have our own high quality standards. On a daily basis, we endeavour to live up to these standards at our production site in Münster (Germany).
Our quality promise
We ensure the seamless monitoring of our entire production process. From the raw material to the finished product, the quality of the products is checked at all stages of production in our own laboratory. This is because we are committed to ensuring that our products offer the highest level of quality and safety for our customers. Our quality guarantee is a promise that we make to earn our customers' trust.
Making sure you are happy
We really hope that our brand and our products are everything you need and have been hoping for. This is what we are endeavouring to achieve now and we will continue to do so in the future. Nothing makes us happier than keeping you happy! We are always grateful to you for passing on your comments and suggestions to us. This enables us to take your needs into consideration when developing products in the future wherever possible.
Digestion and intolerances
When your gut feeling isn't right
The digestive tract of an adult human being is up to nine metres long. Our food usually passes through it without us noticing. We only become aware of our digestive system when it causes problems. Find out what can cause these problems in our advice.