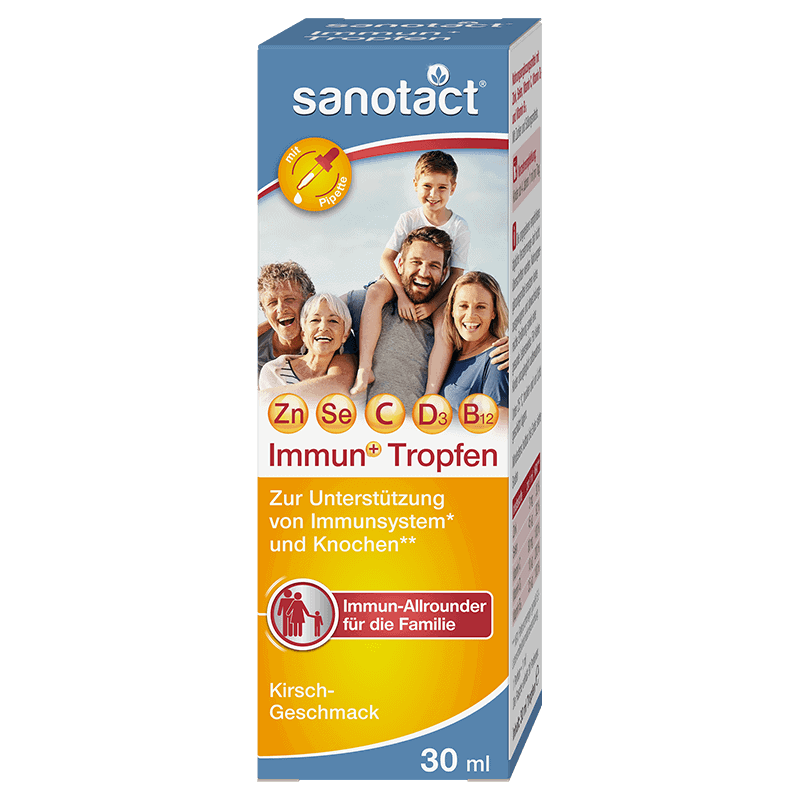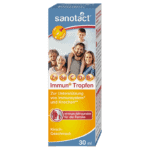 sanotact® Immune+ Drops contain an effective combination of Vitamin D3, B12, C, zinc and selenium.
When the immune system needs additional support
During the cold season, in stressful everyday situations or during periods of high mental and physical strain, the body needs additional support. The immune system in particularly is challenged on a daily basis. To support the immune system in such phases, the classics such as vitamin C, vitamin D and vitamin B12 have proven particularly effective, but trace elements such as selenium or zinc are useful additions.
Immune all-rounder in liquid form
sanotact® Immune+ Drops contain an effective combination of nutrients such as selenium, zinc, vitamin C, vitamin D and vitamin B12 to support the immune system. The ease of application and the delicately tart cherry flavour make sanotact® Immune+ Drops a treat for the whole family. The drops are also ideal for people who have difficulty swallowing, as they can be taken directly or stirred into food or drinks.
sanotact® Immune+ Drops contain zinc, selenium, vitamin C, D3 and B12, which contribute to the normal function of the immune system. Vitamin D3 and zinc contribute to the maintenance of normal bones. In addition, vitamin C, zinc and selenium protect cells from oxidative stress. Vitamin C and B12 also contribute to normal energy metabolism, normal nervous system function, normal mental function and the reduction of tiredness and fatigue. They are a real immune all-rounder, they are ideal for the whole family and can be taken by children from the age of 4. They are gluten-free and lactose-free.
water, sweetener (glycerol, acesulfame K, sucralose, saccharin, steviol glycosides), sucrose, cherry juice concentrate, calcium ascorbate, L-ascorbic acid (vitamin C), zinc gluconate, preservatives (potassium sorbate, sodium benzoate), flavouring, emulsifier polysorbate 80, thickener xanthan gum, sodium selenite, cholecalciferol (vitamin D3), cyanocobalamin (vitamin B12)
Children from the age of 4 years and adults 1 ml per day – the drops can be dissolved directly on the tongue or stirred into cold drinks and food.
Do not exceed the recommended daily intake stated. Food supplements do not replace a balanced, varied diet and healthy lifestyle.
Keep out of reach of small children.
| Nutritional information | per 1 ml | NRV* |
| --- | --- | --- |
| Zinc | 3.0 mg | 30% |
| Selenium | 45 µg | 82% |
| Vitamin C | 80 mg | 100% |
| Vitamin D3 | 10 µg | 200% |
| Vitamin B12 | 2.5 µg | 100% |
* NRV: Reference quantity according to EU Food Information Regulation
sanotact® quality... guaranteed!
Our quality standards
As a manufacturer of food supplements, we meet the most stringent requirements when it comes to food safety. Certification according to the International Food Standard (IFS) at Higher Level is therefore both a promise and an obligation for us. Furthermore, as a manufacturing company, we have our own high quality standards. On a daily basis, we endeavour to live up to these standards at our production site in Münster (Germany).
Our quality promise
We ensure the seamless monitoring of our entire production process. From the raw material to the finished product, the quality of the products is checked at all stages of production in our own laboratory. This is because we are committed to ensuring that our products offer the highest level of quality and safety for our customers. Our quality guarantee is a promise that we make to earn our customers' trust.
Making sure you are happy
We really hope that our brand and our products are everything you need and have been hoping for. This is what we are endeavouring to achieve now and we will continue to do so in the future. Nothing makes us happier than keeping you happy! We are always grateful to you for passing on your comments and suggestions to us. This enables us to take your needs into consideration when developing products in the future wherever possible.
Immune system and colds
THE IMMUNE SYSTEM
Did you know that male 16 to 20-year-olds in Germany are the only population group that gets all nutrients in sufficient quantities through food? This is because adolescents eat such large quantities of food every day that this alone covers their needs.