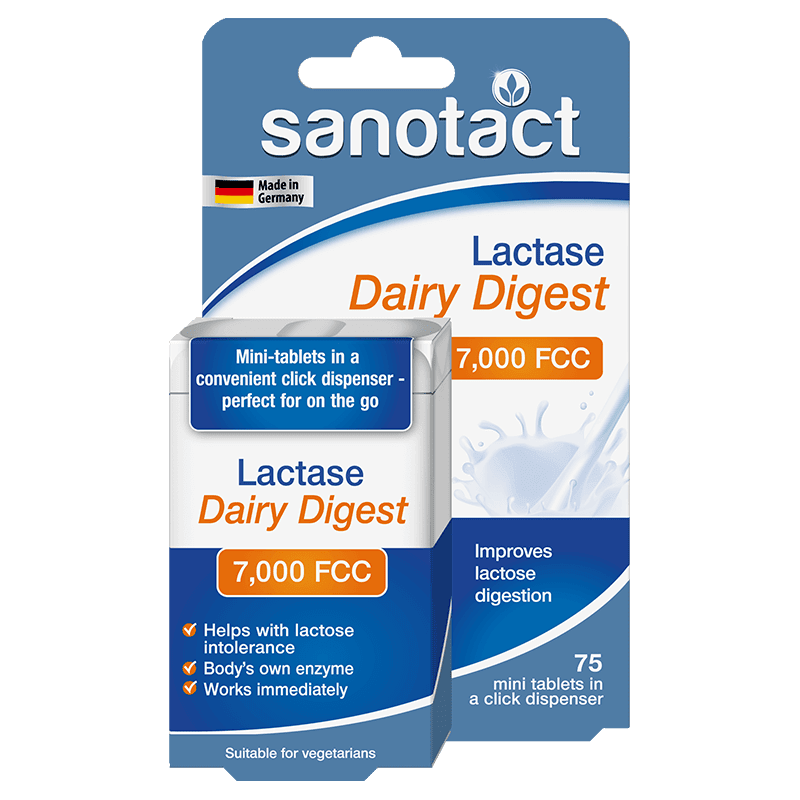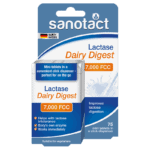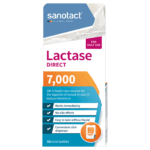 sanotact® Lactase 7,000 improves the digestion of milk sugar (lactose) in people who have problems digesting lactose.
Lactose intolerance does not mean you have to do without ice cream etc.
For many people, a cappuccino in a café, an ice cream on the way home or an invitation to a friend's barbecue mean quality of life and good times. This light-hearted approach can be clouded by lactose intolerance. Lactose is found in many foods, not just milk. It is worth taking a closer look at the list of ingredients in the products, because lactose is often hidden behind different terms, including lactose, milk, milk powder, whey, whey powder, sour cream or butter. People affected by lactose intolerance are unable to fully digest the lactose ingested with food, or may not be able to digest it at all, because their body cannot produce the lactase enzyme, or cannot produce it in sufficient amounts. The undigested lactose thus enters the large intestine, where it often causes unpleasant symptoms such as diarrhoea, flatulence and abdominal pain immediately or a few hours after eating foods containing lactose.
Some sufferers give up milk and foods containing lactose altogether. Others resort to lactose-free, plant-based alternatives. However, lactose intolerance does not generally mean that certain foods have to be avoided, because there is an alternative and thus a significant relief in everyday life for those affected – lactase preparations.
Basically, lactase always has the same enzyme mechanism of action. However, there are differences in lactase activities. Lactase products supply the body with the required lactase enzyme from the outside and enable the consumption of products containing lactose.
Enjoying foods containing lactose despite lactose intolerance
The endogenous lactase enzyme in sanotact® Lactase 7,000 Mini Tablets breaks down milk sugar into the sugars galactose and glucose, which can be used by the human body. Typical digestive complaints such as flatulence or diarrhoea can be avoided by taking the necessary enzyme. It is not possible to overdose on lactase because it is an enzyme produced naturally in the body and there is no build up of tolerance.
The practical click dispenser fits in any trouser pocket or handbag and is therefore the ideal companion for on the go. The tasteless tablets are dispensed individually and, as mini tablets, allow easy and discreet intake, even without liquid. The reliable immediate effect allows relaxed intake just before or during a meal.
sanotact® Lactase 7,000 Mini Tablets are free from colourings, sweeteners, flavourings and animal ingredients, and are also gluten-free.
lactase (96.7 %), glazing agent (hydroxypropylmethyl cellulose, hydroxypropyl cellulose), anti-caking agent (talc, magnesium salts of fatty acids), modified starch, vegetable oil (coconut)
Swallow 1 tablet immediately before (but not on an empty stomach) or during consumption of products containing lactose.
The degree of lactose intolerance varies from person to person. It depends on the body's own lactase production and the amount of lactose contained in food and drinks. The type of food (liquid or solid) should also be considered. Please read up about the function of lactase in your diet.
The recommended daily intake must not be exceeded. Dietary supplements are not a substitute for a balanced and varied diet and a healthy lifestyle. Keep out of reach of small children.
| Nutritional information | per tablet | per 2 tablets |
| --- | --- | --- |
| Lactase | 7,000 Lactase-FCC-Units | 14,000 Lactase-FCC-Units |
sanotact® quality... guaranteed!
Our quality standards
As a manufacturer of food supplements, we meet the most stringent requirements when it comes to food safety. Certification according to the International Food Standard (IFS) at Higher Level is therefore both a promise and an obligation for us. Furthermore, as a manufacturing company, we have our own high quality standards. On a daily basis, we endeavour to live up to these standards at our production site in Münster (Germany).
Our quality promise
We ensure the seamless monitoring of our entire production process. From the raw material to the finished product, the quality of the products is checked at all stages of production in our own laboratory. This is because we are committed to ensuring that our products offer the highest level of quality and safety for our customers. Our quality guarantee is a promise that we make to earn our customers' trust.
Making sure you are happy
We really hope that our brand and our products are everything you need and have been hoping for. This is what we are endeavouring to achieve now and we will continue to do so in the future. Nothing makes us happier than keeping you happy! We are always grateful to you for passing on your comments and suggestions to us. This enables us to take your needs into consideration when developing products in the future wherever possible.
Lactose intolerance
A COMMON PROBLEM
For around 15-20% of people in Germany, milk is not a pleasurable experience but a cause of discomfort: They suffer from an intolerance to milk sugar (lactose), which is also known as lactose intolerance. We have compiled some information on the causes, symptoms and much more for you.