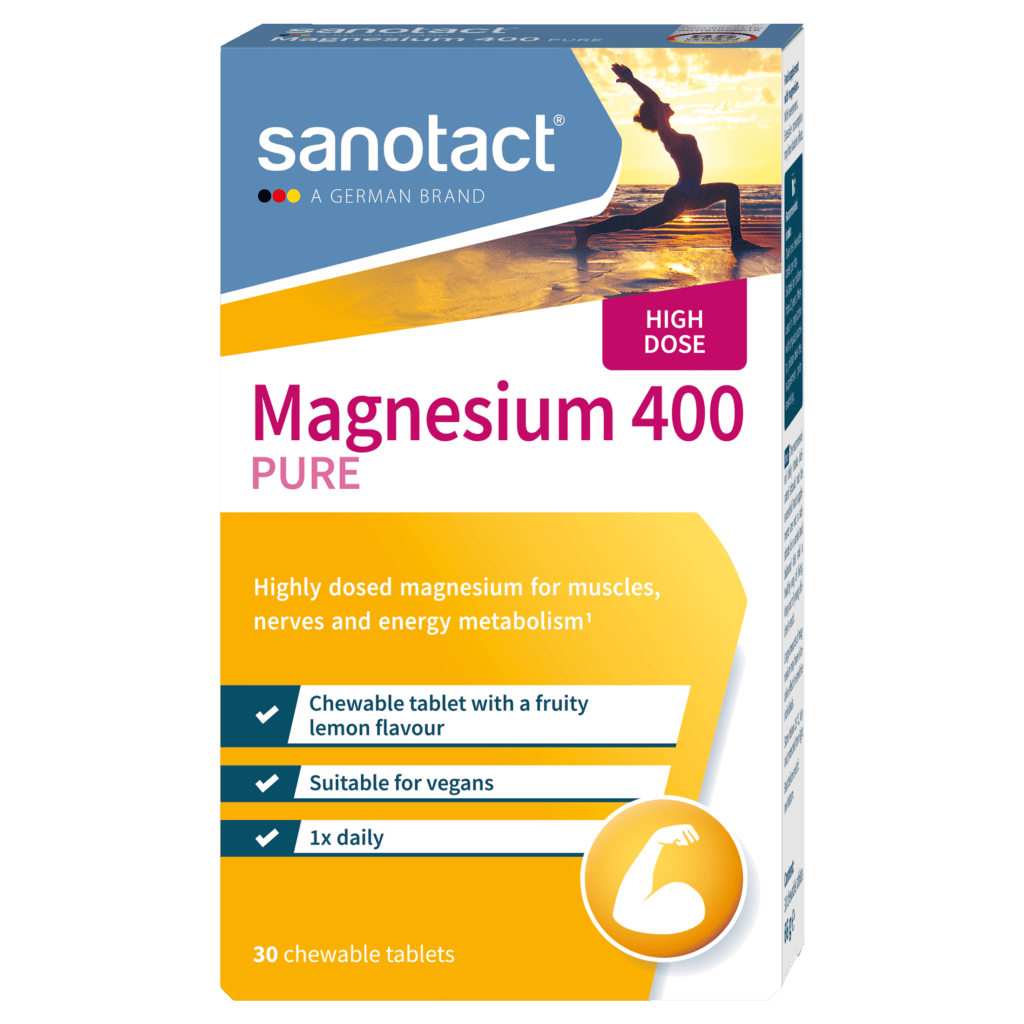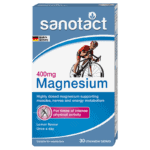 sanotact® Magnesium 400 mg Chewable Tablets contain a high dose of magnesium for nerves, muscles and energy metabolism.
Magnesium is involved in numerous processes of the human body and is therefore essential. Magnesium plays a particularly important role in muscle activity. This includes, for example, particularly stressed muscles such as the heart muscle or the muscles in the hands, feet or calves. In addition, magnesium provides energy and vitality by supporting energy metabolism and the nervous system.
An increased need for magnesium is caused by external factors such as physical stress from sport, an unbalanced diet or consumption of alcohol, coffee or tea. A magnesium deficiency manifests itself, for example, in nightly calf cramps. In these cases, it is important to regularly supply the body with magnesium, as the body cannot produce the mineral on its own.
Pure magnesium product for daily needs
sanotact® Magnesium 400 mg Chewable Tablets are easy and convenient to take. The chewable tablets are ideal for people who do not like to swallow tablets. Whether in the office, on the road or during sports activities – the fruity, lemon-tasting magnesium tablet is especially practical for on the go.
vegan sanotact® Magnesium 400 mg Chewable Tablets contain a high dose of pure magnesium. They cover the daily requirement of magnesium and taste fruity fresh like lemon.
The magnesium tablets are free from colourings, added sugar and animal ingredients, and are also gluten-free and lactose-free.
sweetener sorbitol, magnesium carbonate, magnesium oxide, acid citric acid, fully hydrogenated vegetable fat (rapeseed), flavouring, anti-caking agent magnesium salts of fatty acids, sweetener acesulfam K.
Take 1 sanotact Magnesium 400 mg Chewable Tablet per day at any time (from 12 years of age). Take in conjunction with sports or physical activities before starting the activity.

E

xcessive

 consumption may p

ro

duc

e laxative e

ffects

.

Do not exceed the recommended daily intake stated. Dietary supplements are not a substitute for a balanced and varied diet and a healthy lifestyle.
Keep out of reach of small children.
Large amounts of magnesium can have a laxative effect on sensitive people.
| Nutritional information | per tablet | NRV* |
| --- | --- | --- |
| Magnesium | 400 mg | 107% |
* NRV: Reference quantity according to EU Food Information Regulation
sanotact® quality... guaranteed!
Our quality standards
As a manufacturer of food supplements, we meet the most stringent requirements when it comes to food safety. Certification according to the International Food Standard (IFS) at Higher Level is therefore both a promise and an obligation for us. Furthermore, as a manufacturing company, we have our own high quality standards. On a daily basis, we endeavour to live up to these standards at our production site in Münster (Germany).
Our quality promise
We ensure the seamless monitoring of our entire production process. From the raw material to the finished product, the quality of the products is checked at all stages of production in our own laboratory. This is because we are committed to ensuring that our products offer the highest level of quality and safety for our customers. Our quality guarantee is a promise that we make to earn our customers' trust.
Making sure you are happy
We really hope that our brand and our products are everything you need and have been hoping for. This is what we are endeavouring to achieve now and we will continue to do so in the future. Nothing makes us happier than keeping you happy! We are always grateful to you for passing on your comments and suggestions to us. This enables us to take your needs into consideration when developing products in the future wherever possible.
Energy and performance
When your body needs a break
We are used to giving our all in every area of life; rest and recovery phases, on the other hand, are often neglected. Such stressful situations, which often go hand in hand with particular eating habits, can lead to our bodies developing an increased need for nutrients.