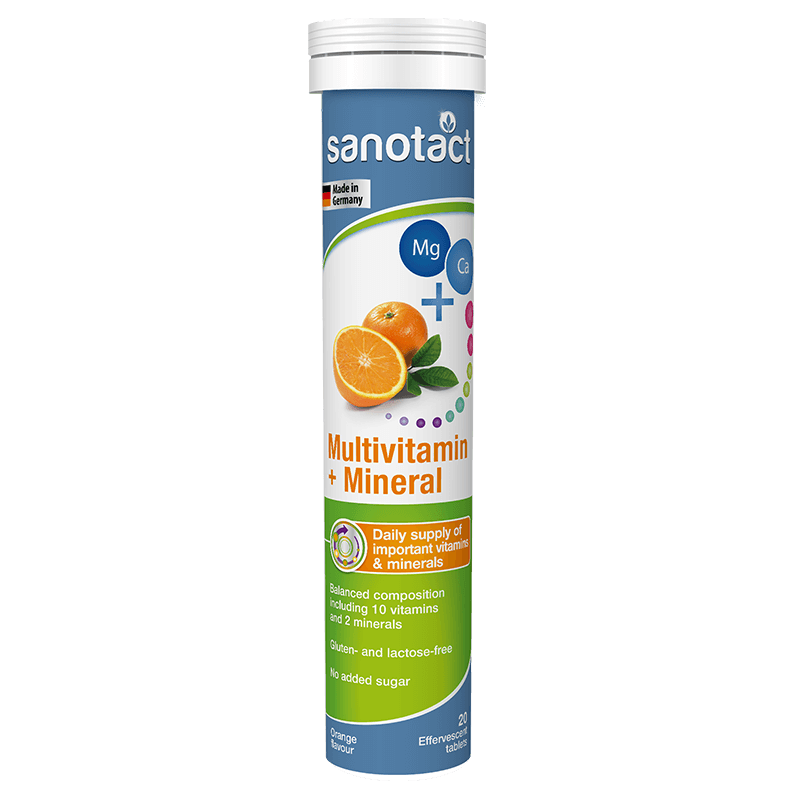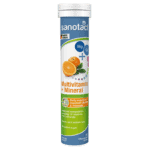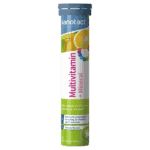 The sanotact® Multivitamin + Mineral effervescent tablets contain the daily requirement of 10 vitamins as well as 2 minerals.
Vitamin effervescent tablets combined with minerals
An optimum supply of vitamins and minerals is crucial for your physical wellbeing and performance. Products that contain essential vitamins and a useful supplement of minerals can contribute to wellbeing and performance.
The vitamin and mineral combination for daily use
sanotact® Multivitamin + Mineral effervescent tablets contain a balanced composition of the daily requirement of 10 vitamins as well as 2 useful minerals.
Vitamin C contributes to a normal function of the immune system and reduces tiredness and fatigue. Pantothenic acid supports normal mental performance. Vitamin B2 and magnesium supports the normal function of the nervous system. Calcium contributes to normal energy metabolism. sanotact® Multivitamin + Mineral effervescent tablets have a delicious orange flavour. They have no added sugar and are gluten- and lactose-free. Contains sweeteners.
acid citric acid, acidity regulator potassium hydrogen carbonate, bulking agent sorbitol, calcium carbonate, acidity regulator sodium hydrogen carbonate, magnesium carbonate, maize starch, flavourings, L-ascorbic acid (vitamin C), maltodextrin, sweetener sodium cyclamate, DL-alpha-tocopherylacetate (vitamin E), beetroot juice powder, nicotinamide, sweetener sodium saccharin, calcium-D-pantothenate, pyridoxine hydrochloride (vitamin B6), riboflavin (vitamin B2), thiamin mononitrate (vitamin B1), pteroylmonoglutamicacid (folic acid), D-biotin, cyanocobalamin (vitamin B12)
Dissolve one tablet daily in a glass of water (200 ml).
Do not exceed the recommended daily intake stated. Dietary supplements are not a substitute for a balanced and varied diet and a healthy lifestyle.
Keep out of reach of small children.
| Nutritional information | per tablet | NRV* |
| --- | --- | --- |
| Vitamin C | 80 mg | 100% |
| Vitamin E | 12 mg α-TE | 100% |
| Thiamin (vitamin B1) | 1.1 mg | 100% |
| Riboflavin (vitamin B2) | 1.4 mg | 100% |
| Niacin | 16 mg NE | 100% |
| Pantothenic acid | 6.0 mg | 100% |
| VitaminB6 | 1.4 mg | 100% |
| VitaminB12 | 2.5 μg | 100% |
| Folic acid | 200 μg | 100% |
| Biotin | 50 μg | 100% |
| Calcium | 120 mg | 15% |
| Magnesium | 56.0 mg | 15% |
* NRV: Reference quantity according to EU Food Information Regulation
sanotact® quality... guaranteed!
Our quality standards
As a manufacturer of food supplements, we meet the most stringent requirements when it comes to food safety. Certification according to the International Food Standard (IFS) at Higher Level is therefore both a promise and an obligation for us. Furthermore, as a manufacturing company, we have our own high quality standards. On a daily basis, we endeavour to live up to these standards at our production site in Münster (Germany).
Our quality promise
We ensure the seamless monitoring of our entire production process. From the raw material to the finished product, the quality of the products is checked at all stages of production in our own laboratory. This is because we are committed to ensuring that our products offer the highest level of quality and safety for our customers. Our quality guarantee is a promise that we make to earn our customers' trust.
Making sure you are happy
We really hope that our brand and our products are everything you need and have been hoping for. This is what we are endeavouring to achieve now and we will continue to do so in the future. Nothing makes us happier than keeping you happy! We are always grateful to you for passing on your comments and suggestions to us. This enables us to take your needs into consideration when developing products in the future wherever possible.
Immune system and colds
THE IMMUNE SYSTEM
Did you know that male 16 to 20-year-olds in Germany are the only population group that gets all nutrients in sufficient quantities through food? This is because adolescents eat such large quantities of food every day that this alone covers their needs.