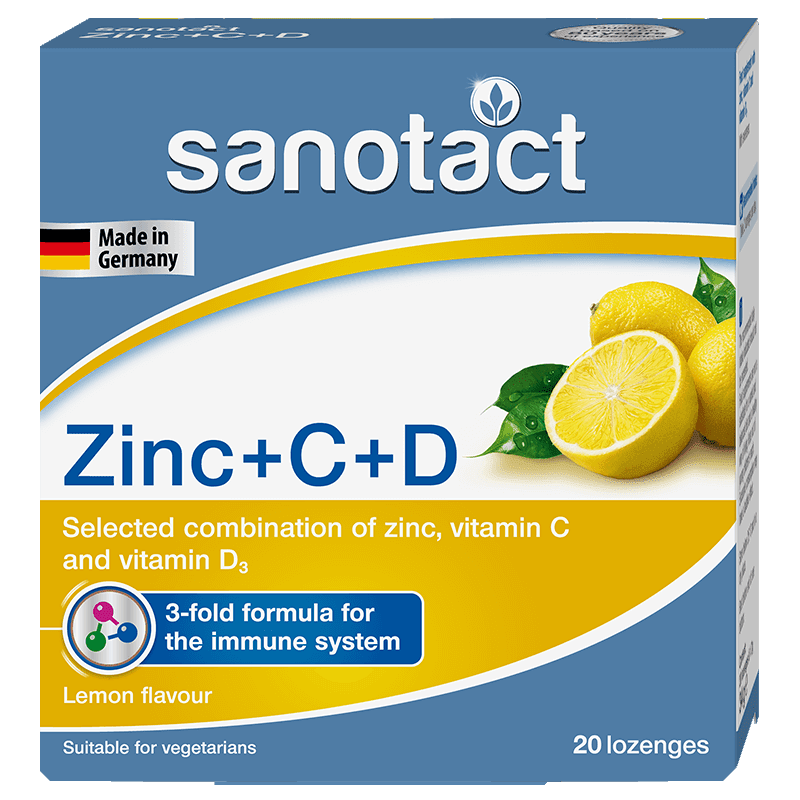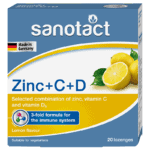 The sanotact® Zinc+C+D lozenges contain the ideal combination of nutrients for an intact immune system.
Zinc – the vital trace element
Zinc is one of the so-called essential trace elements and is therefore vital for each and every one of us. However, it cannot be produced by the body itself. The body cannot store zinc either, so it must be taken in regularly with food. Zinc is found in animal foods such as beef, poultry, pork, cheese and milk. Vegetable sources of zinc include nuts, peas and beans.
Zinc is an important component of the immune system and has proven its worth in preparations for strengthening the immune system. In the past, studies have been conducted with adults, among others, in which high doses of zinc have led to a significant reduction in the duration of the common cold.
Fruity taste lozanges for the immune system
sanotact® Zinc+C+D lozenges contain a nutrient combination of zinc, vitamin C and vitamin D3 that contribute to a normal immune system. Zinc and vitamin D3 contribute to normal cell division. In addition to reducing fatigue vitamin C contributes to a normal energy metabolism. Zinc and vitamin C also protect the cells from oxidative stress.
sanotact® Zinc+C+D lozenges have a fruity lemon flavour and provide direct release after ingestion. They can be conveniently taken thanks to their practical packaging in individual sachets, which makes them easy to carry with you when you are travelling or on the go.
The zinc lozenges are free from colourings and added sugar, and are also gluten-free and lactose-free.
sweetener sorbitol, L-ascorbic acid (vitamin C), lemon fruit powder (1 %), fully hydrogenated vegetable fat (rapeseed), flavouring, zinc citrate, anti-caking agent magnesium salts of fatty acids, cholecalciferol (vitamin D3)
Take 2 lozenges per day.
Do not exceed the recommended daily intake stated. Food supplements do not replace a balanced, varied diet and healthy lifestyle.
Keep out of reach of small children.
| Nutritional information | per 2 tablets | NRV* |
| --- | --- | --- |
| Zinc | 5.0 mg | 50% |
| Vitamin C | 200 mg | 250% |
| Vitamin D3 | 10 µg | 200% |
* NRV: Reference quantity according to EU Food Information Regulation
sanotact® quality... guaranteed!
Our quality standards
As a manufacturer of food supplements, we meet the most stringent requirements when it comes to food safety. Certification according to the International Food Standard (IFS) at Higher Level is therefore both a promise and an obligation for us. Furthermore, as a manufacturing company, we have our own high quality standards. On a daily basis, we endeavour to live up to these standards at our production site in Münster (Germany).
Our quality promise
We ensure the seamless monitoring of our entire production process. From the raw material to the finished product, the quality of the products is checked at all stages of production in our own laboratory. This is because we are committed to ensuring that our products offer the highest level of quality and safety for our customers. Our quality guarantee is a promise that we make to earn our customers' trust.
Making sure you are happy
We really hope that our brand and our products are everything you need and have been hoping for. This is what we are endeavouring to achieve now and we will continue to do so in the future. Nothing makes us happier than keeping you happy! We are always grateful to you for passing on your comments and suggestions to us. This enables us to take your needs into consideration when developing products in the future wherever possible.
Immune system and colds
THE IMMUNE SYSTEM
Did you know that male 16 to 20-year-olds in Germany are the only population group that gets all nutrients in sufficient quantities through food? This is because adolescents eat such large quantities of food every day that this alone covers their needs.