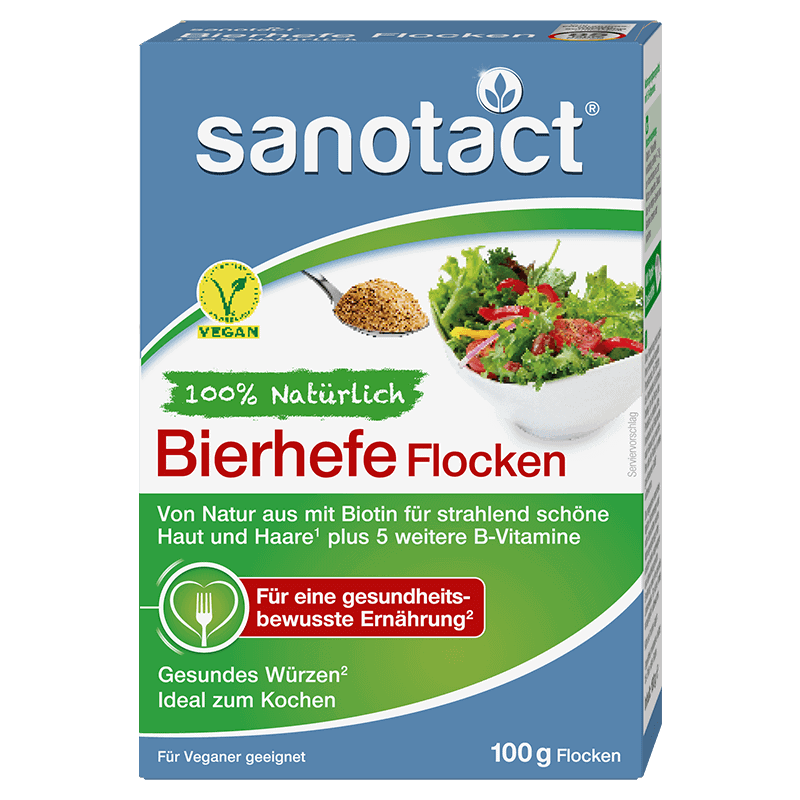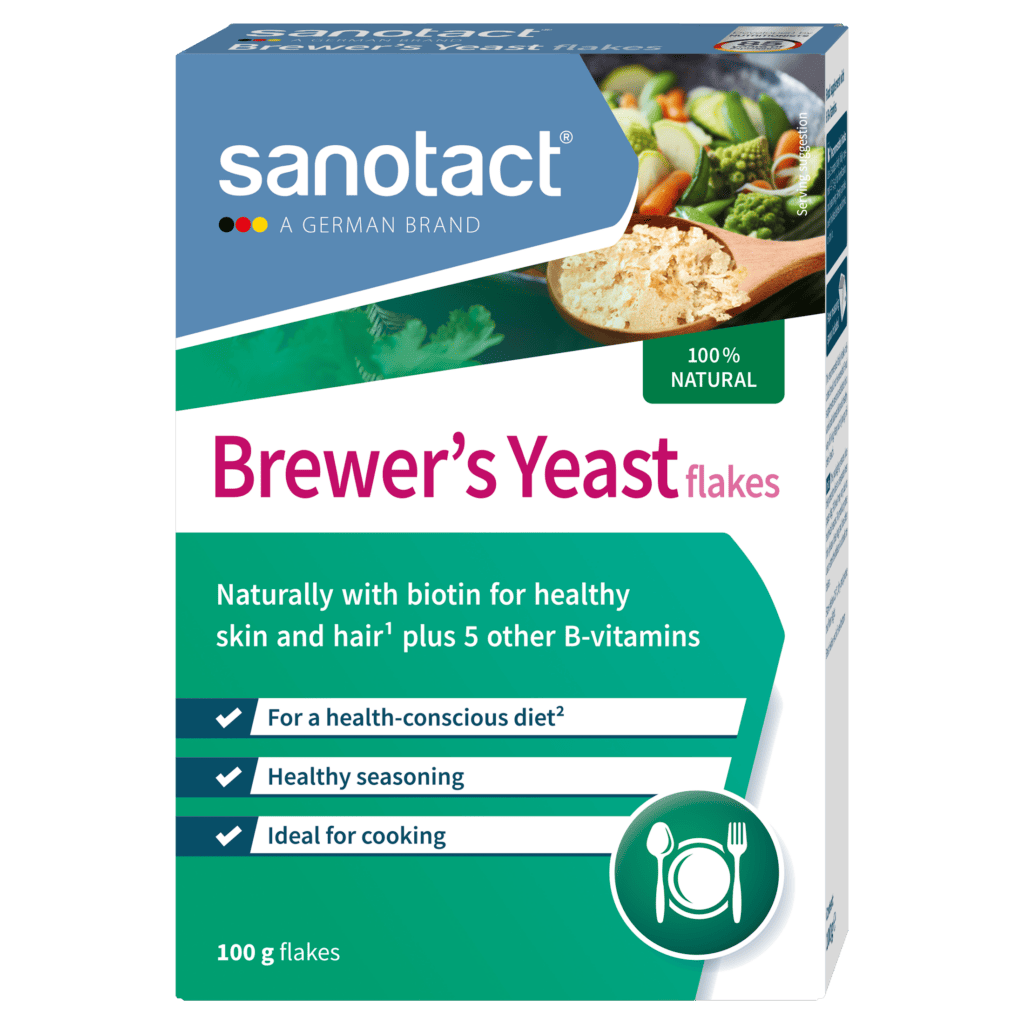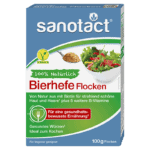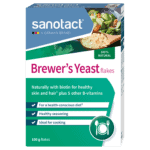 sanotact® Brewer's Yeast Flakes are a high-quality, 100% natural product as a dietary supplement for skin and hair. Ideal for a health-conscious and vegan diet.
The savoury flavour carrier
In the past, when most beers were still served unfiltered as so-called "Zwickelbier", all the nutrients of the brewer's yeast ended up in the tankard. To make beer last longer, the brewer's yeast produced during fermentation was filtered out again. But then the valuable components of what was once believed to be the "waste product" were discovered. The brewer's yeast cell includes valuable ingredients in its growing process or forms them itself. For example, it consists of 40% protein and naturally contains high amounts of vitamin B1 and folic acid. The yeast obtained during beer production is then processed in a vitamin-preserving manner and used in different ways.
The special thing about brewer's yeast is the natural and complex combination of nutrients. Because it contains six B vitamins, brewer's yeast is an ideal partner for a health-conscious diet. For many kitchens, brewer's yeast is already a fixed item on the shopping list. Due to its savoury taste, brewer's yeast (for example in flake form) can be easily incorporated into the daily diet. The flakes are suitable for refining salads and dips or are stirred into yoghurt and smoothies as an ingredient. Simply add a tablespoon or two of the flakes to the blender when preparing a banana-cucumber or raspberry-pineapple smoothie. Or conjure up a vegetarian roast with potato wedges and a herb dip. You can find more recipe ideas in the guide "Schönheit von Innen" ("Beauty from within").
Please set a link to the guide here
Ideal for vegetarians and vegans as a vegetable source of vitamins
sanotact® Brewer's Yeast Flakes are characterised by their high quality, which is mainly due to the way they are produced.
After brewing, the brewer's yeast is dried in a particularly gentle way at low temperature. The drying process renders the brewer's yeast cell inactive and it no longer exhibits any fermentation activity. In turn, the cell stores the nutrients that are already naturally present in the brewer's yeast. These include a particularly high content of B vitamins (B1, B2, B6), biotin and folic acid. And of course many other valuable ingredients.
Biotin supports the maintenance of normal skin and hair. Vitamins B1, B2 and biotin support normal energy metabolism and contribute to the normal function of the nervous system. The vitamins folic acid and vitamins B2 and B6 contribute to a reduction in tiredness and fatigue.
Due to their spicy taste, sanotact® Brewer's Yeast Flakes are ideal for cooking and seasoning dishes such as salads or dips, but also for stirring into drinks. Brewer's Yeast Flakes are also widely used as a vegan Parmesan or cheese substitute. This creates a wide range of applications in the kitchen. Brewer's yeast is only not suitable for baking as it is inactivated due to the manufacturing process.
sanotact® Brewer's Yeast Flakes are free from alcohol, added sugar, flavourings, colourings and animal ingredients, and they are lactose-free.
They contain gluten from wheat and barley.
The product is suitable for a vegan diet. The V label is a standardised quality seal of the European Vegetarian Union that identifies vegetarian and vegan products. The label guarantees that no animal ingredients are used in the entire production process or in the product.
100% natural brewer's yeast (contains gluten from barleyand wheat)
2 measuring spoonfuls daily (approx. 7.5 g) to enrich and season salads, soups, sauces, yoghurt, green smoothies and many other dishes and drinks. Simply sprinkle over the finished food/drinks or stir in.
Do not exceed the recommended daily intake stated. Food supplements do not replace a balanced, varied diet and healthy lifestyle.
Keep out of reach of small children.
| Nutritional information | per 100g | per portion (7,5 g) | NRV* |
| --- | --- | --- | --- |
| Thiamin (vitamin B1) | 21 mg | 1.6 mg | 145% |
| Riboflavin (vitamin B2) | 3.2 mg | 0.24 mg | 17% |
| Vitamin B6 | 2.8 mg | 0.21 mg | 15% |
| Niacin | 32 mg NE | 2.4 mg NE | 15% |
| Biotin | 134 μg | 10 μg | 20% |
| Folic acid | 2,744 μg | 206 μg | 103% |
* NRV: Reference quantity according to EU Food Information Regulation
sanotact® quality... guaranteed!
Our quality standards
As a manufacturer of food supplements, we meet the most stringent requirements when it comes to food safety. Certification according to the International Food Standard (IFS) at Higher Level is therefore both a promise and an obligation for us. Furthermore, as a manufacturing company, we have our own high quality standards. On a daily basis, we endeavour to live up to these standards at our production site in Münster (Germany).
Our quality promise
We ensure the seamless monitoring of our entire production process. From the raw material to the finished product, the quality of the products is checked at all stages of production in our own laboratory. This is because we are committed to ensuring that our products offer the highest level of quality and safety for our customers. Our quality guarantee is a promise that we make to earn our customers' trust.
Making sure you are happy
We really hope that our brand and our products are everything you need and have been hoping for. This is what we are endeavouring to achieve now and we will continue to do so in the future. Nothing makes us happier than keeping you happy! We are always grateful to you for passing on your comments and suggestions to us. This enables us to take your needs into consideration when developing products in the future wherever possible.
Beauty from within
VISIBLE HEALTH
An attractive appearance and a positive charisma are always a reflection of inner balance and contentment. And vice versa: Looking good also promotes well-being! Clean skin, shiny hair and healthy fingernails convey vitality and vigour at first glance. A radiant appearance is therefore, at least in part, a question of the right diet!