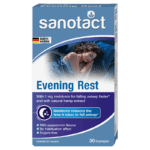 sanotact® Evening Rest Tablets contain 1 mg melatonin (per daily dose/per recommended dose), which helps to shorten the time it takes to fall asleep.
Switch off in the evening and start the next day full of energy
Especially in this day and age, many people feel stressed, tired and drained. Everyday life is often stressful and does not allow us to calm down in the evening, leaving our minds to race. Switching off and falling asleep often becomes a real challenge. Air travel, different time zones or shift work can also throw the body out of balance. The consequences of insomnia include daytime fatigue, lack of concentration, stress and a reduced sense of well-being.
Regeneration, mental rest and relaxation as well as regular and sufficient sleep play an essential role in maintaining the body's health and performance. A regular sleep pattern is therefore an important basic prerequisite for energy and concentration in everyday life. However, if the sleep pattern gets out of sync due to particular circumstances or life situations, there are special remedies that can help you to calm down and fall asleep better.
With melatonin for sleep and natural hemp seed extract
sanotact® Evening Rest is a unique combination of the body's own hormone melatonin and valuable hemp seed extract. Melatonin is an important clock in the sleep-wake rhythm. It ensures that the body shuts down – in preparation for sleep – by lowering energy consumption and blood pressure, among other things. sanotact Evening Rest Lozenges with one milligram of melatonin help to shorten the time it takes to fall asleep. In addition, the tablets contain a natural extract from hemp seeds. Hemp is one of the oldest crop plants in the world and the seeds are considered a true superfood.
The pleasant peppermint-tasting lozenges are well tolerated and create a fresh feeling in your mouth. As the delicious lozenges contain no sugar, they can also be used without any problems after brushing your teeth. They are ideal for taking as a part of your evening routine.
sanotact® Evening Rest Lozenges are free from colourings and animal ingredients, and are also gluten-free and lactose-free.
sweetener sorbitol, hemp extract (25 %), bulking agent hydroxypropyl cellulose, anti-caking agent magnesium salts of fatty acids, flavouring, melatonin
Let 1 lozenge melt in the mouth before going to bed.
Do not exceed the recommended daily intake stated. Excessive consumption may produce laxative effects.
Food supplements do not replace a balanced, varied diet and healthy lifestyle.
Keep out of reach of small children. Pregnant and breastfeeding women should consult their doctor before use. Not recommended for children and young people under 18 years of age.
Long-term or continuous use is not recommended.
| Nutritional information | per tablet | NRV* |
| --- | --- | --- |
| Melatonin | 1.0 mg | - |
| Hemp extract | 500 mg | - |
* NRV: Reference quantity according to EU Food Information Regulation
sanotact® quality... guaranteed!
Our quality standards
As a manufacturer of food supplements, we meet the most stringent requirements when it comes to food safety. Certification according to the International Food Standard (IFS) at Higher Level is therefore both a promise and an obligation for us. Furthermore, as a manufacturing company, we have our own high quality standards. On a daily basis, we endeavour to live up to these standards at our production site in Münster (Germany).
Our quality promise
We ensure the seamless monitoring of our entire production process. From the raw material to the finished product, the quality of the products is checked at all stages of production in our own laboratory. This is because we are committed to ensuring that our products offer the highest level of quality and safety for our customers. Our quality guarantee is a promise that we make to earn our customers' trust.
Making sure you are happy
We really hope that our brand and our products are everything you need and have been hoping for. This is what we are endeavouring to achieve now and we will continue to do so in the future. Nothing makes us happier than keeping you happy! We are always grateful to you for passing on your comments and suggestions to us. This enables us to take your needs into consideration when developing products in the future wherever possible.
Energy and performance
When your body needs a break
We are used to giving our all in every area of life; rest and recovery phases, on the other hand, are often neglected. Such stressful situations, which often go hand in hand with particular eating habits, can lead to our bodies developing an increased need for nutrients.