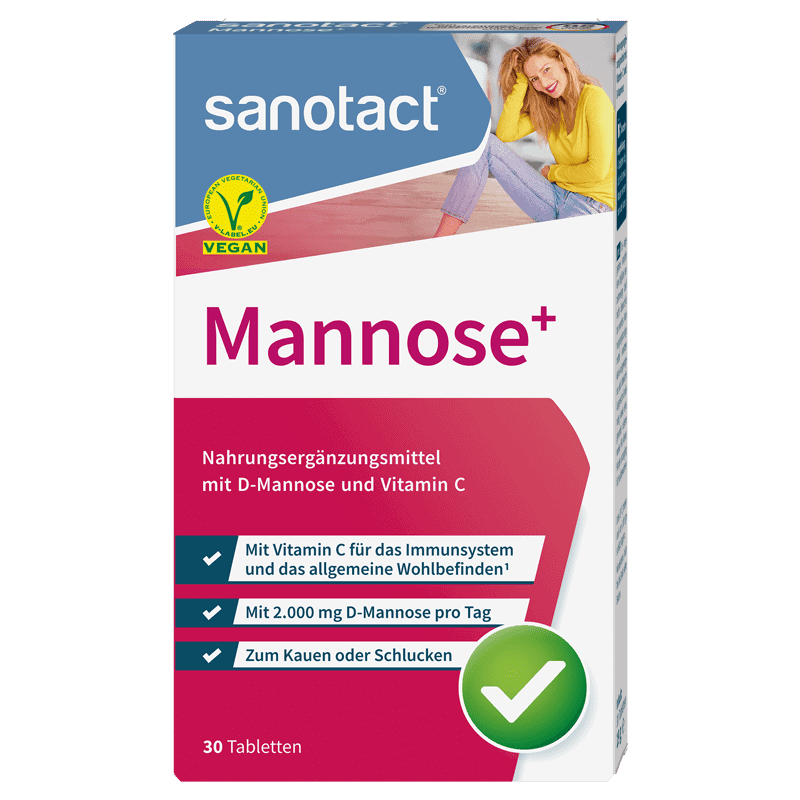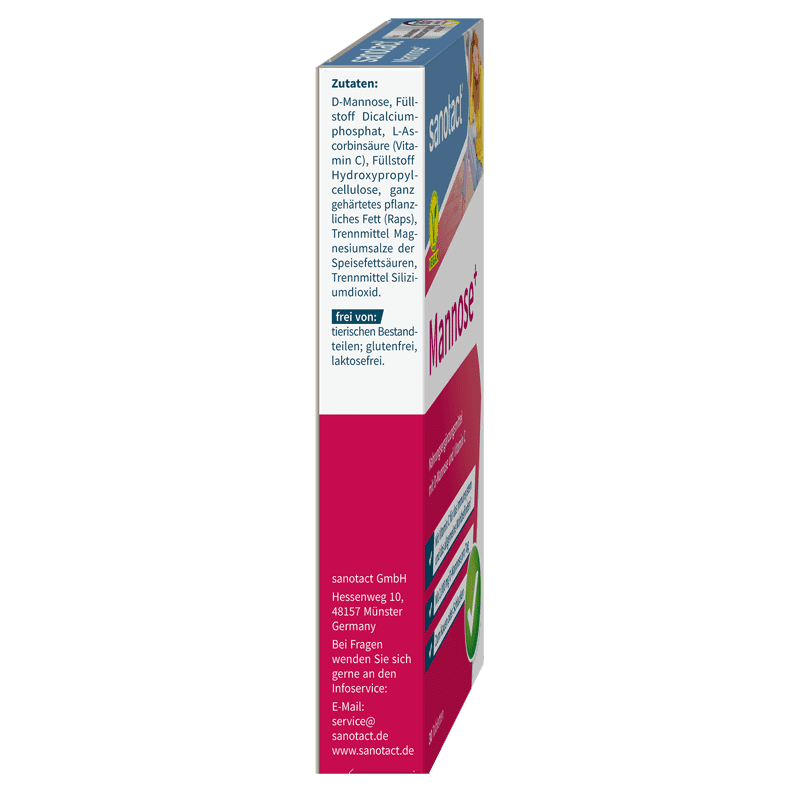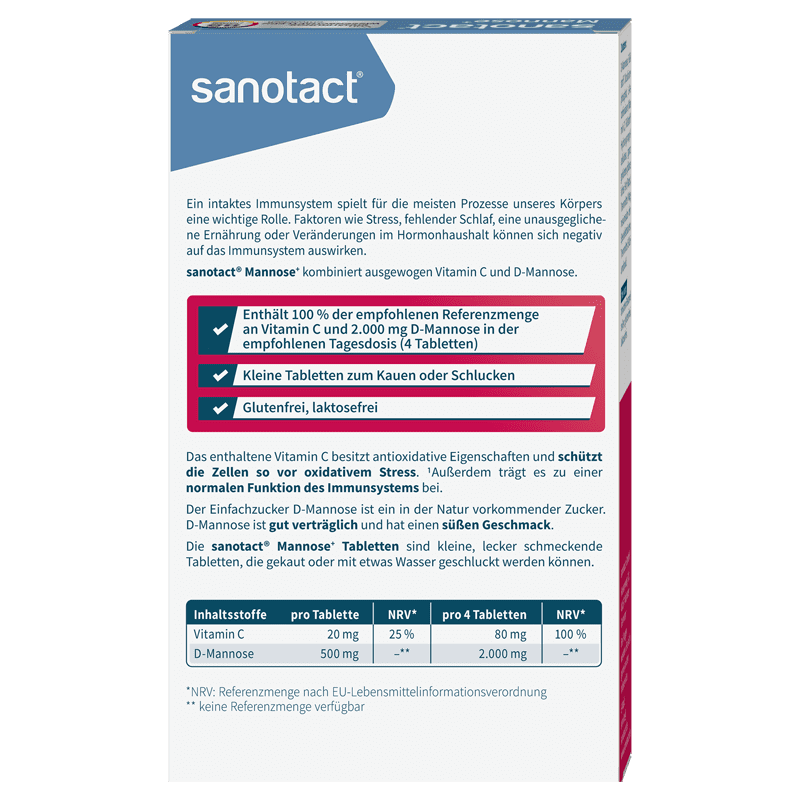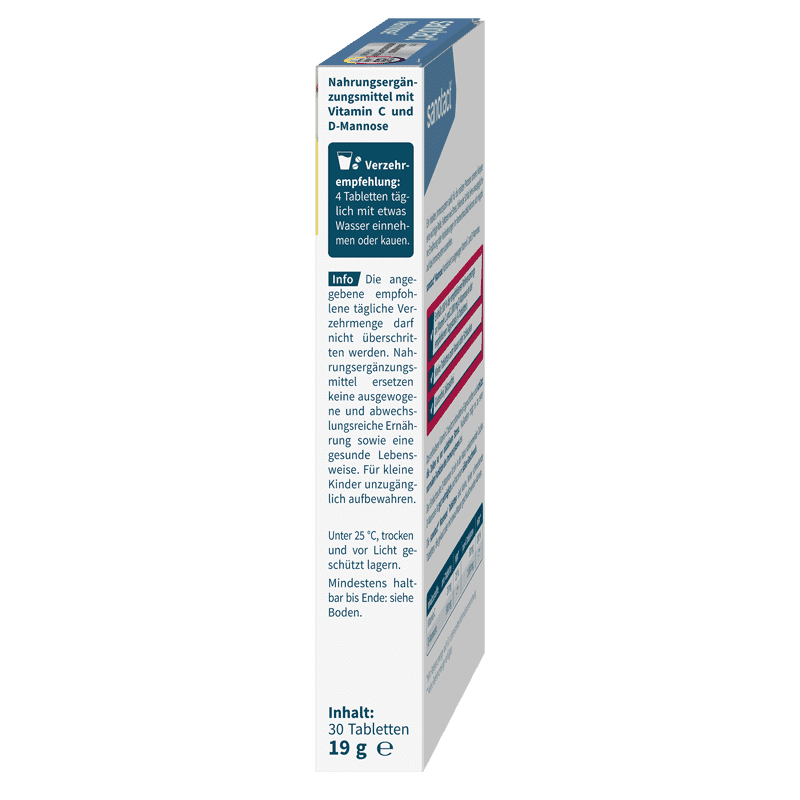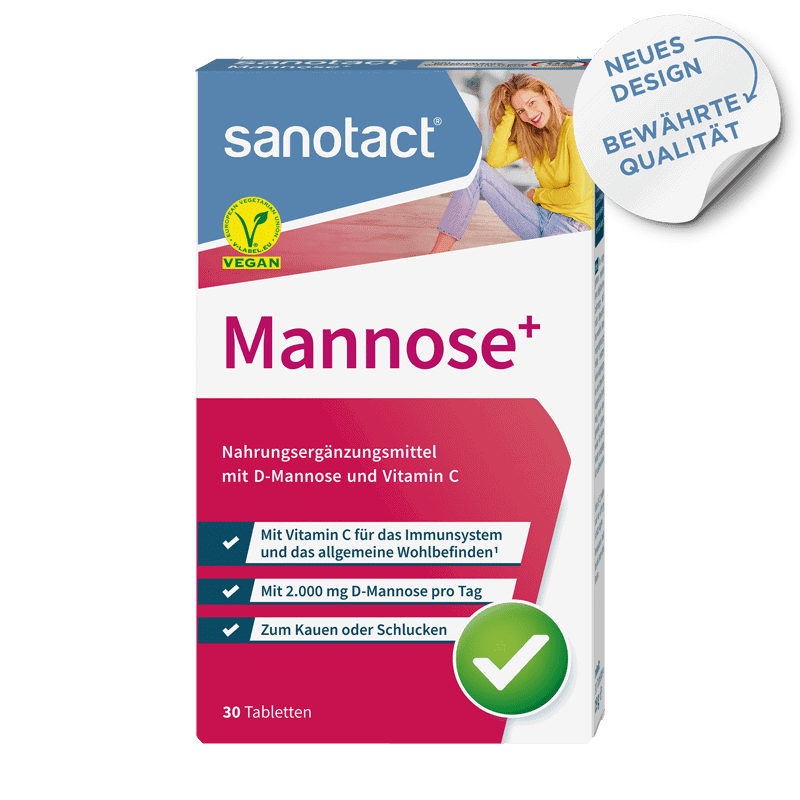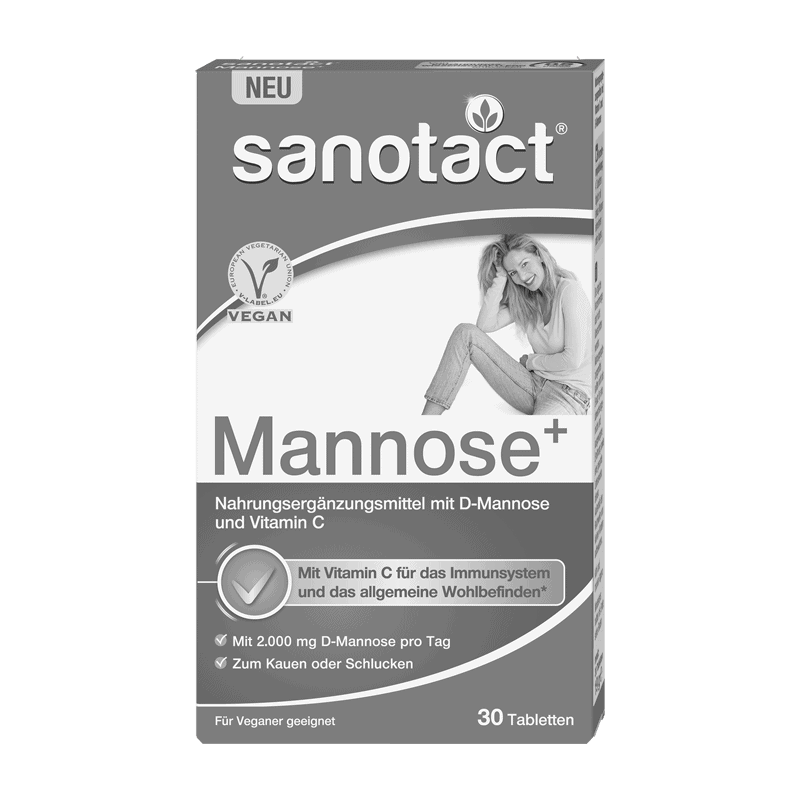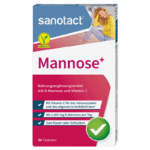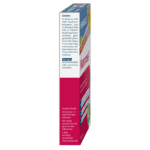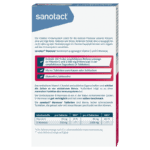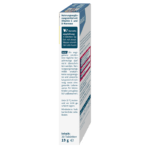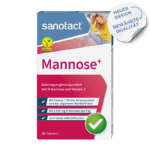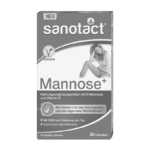 sanotact® Mannose+ Tablets – food supplement with D-mannose and vitamin C
Giving the immune system a helping hand
An intact immune system plays an important role in most of our body's processes. Factors such as stress, lack of sleep, an unbalanced diet or changes in the hormone balance can have a negative effect on the immune system. In such cases, it is helpful to give the immune system a helping hand to strengthen the body.
A combination of vitamin C and mannose for well-being
The vitamin C in sanotact® Mannose+ Tablets has antioxidant properties and thus protects the cells from oxidative stress. It also contributes to the normal function of the immune system.
In addition, it contains 2,000 mg of the simple sugar D-mannose per daily dose. D-mannose is known for many good properties that support general well-being and is found naturally in birch, maize and fruits such as cranberries. The simple sugar is also known for its good tolerance and sweet taste.
The small, delicious-tasting tablets can be chewed or swallowed with a little water, as desired. They are free from animal ingredients and are gluten-free and lactose free.
The product is suitable for a vegan diet. The V label is a standardised quality seal of the European Vegetarian Union that identifies vegetarian and vegan products. The label guarantees that no animal ingredients are used in the entire production process or in the product.
D-mannose, bulking agent dicalcium phosphate, L-ascorbic acid (vitamin C), bulking agent hydroxypropyl cellulose, fully hydrogenated vegetable fat (rapeseed), separating agent magnesium salts from fatty acids, separating agent silicon dioxide
Take 4 tablets daily with some water or chew.
Do not exceed the recommended daily intake stated. Dietary supplements are not a substitute for a balanced and varied diet and a healthy lifestyle.
Keep out of reach of small children.
| Nutritional information | per tablet | NRV* | per 4 tablets | NRV* |
| --- | --- | --- | --- | --- |
| Vitamin C | 20 mg | 25% | 80 mg | 100% |
| D-mannose | 500 mg | - | 2,000 mg | - |
* NRV: Reference quantity according to EU Food Information Regulation
sanotact® quality... guaranteed!
Our quality standards
As a manufacturer of food supplements, we meet the most stringent requirements when it comes to food safety. Certification according to the International Food Standard (IFS) at Higher Level is therefore both a promise and an obligation for us. Furthermore, as a manufacturing company, we have our own high quality standards. On a daily basis, we endeavour to live up to these standards at our production site in Münster (Germany).
Our quality promise
We ensure the seamless monitoring of our entire production process. From the raw material to the finished product, the quality of the products is checked at all stages of production in our own laboratory. This is because we are committed to ensuring that our products offer the highest level of quality and safety for our customers. Our quality guarantee is a promise that we make to earn our customers' trust.
Making sure you are happy
We really hope that our brand and our products are everything you need and have been hoping for. This is what we are endeavouring to achieve now and we will continue to do so in the future. Nothing makes us happier than keeping you happy! We are always grateful to you for passing on your comments and suggestions to us. This enables us to take your needs into consideration when developing products in the future wherever possible.
Women's health
HEALTHY AND POWERFUL THROUGH ALL PHASES OF A WOMAN'S LIFE
Women deal with a large number of challenges throughout their lives, from pregnancy to menopause and from PMS to bacterial vaginosis. And even some conditions that affect both sexes often occur much more frequently in women or with completely different symptoms than in men.