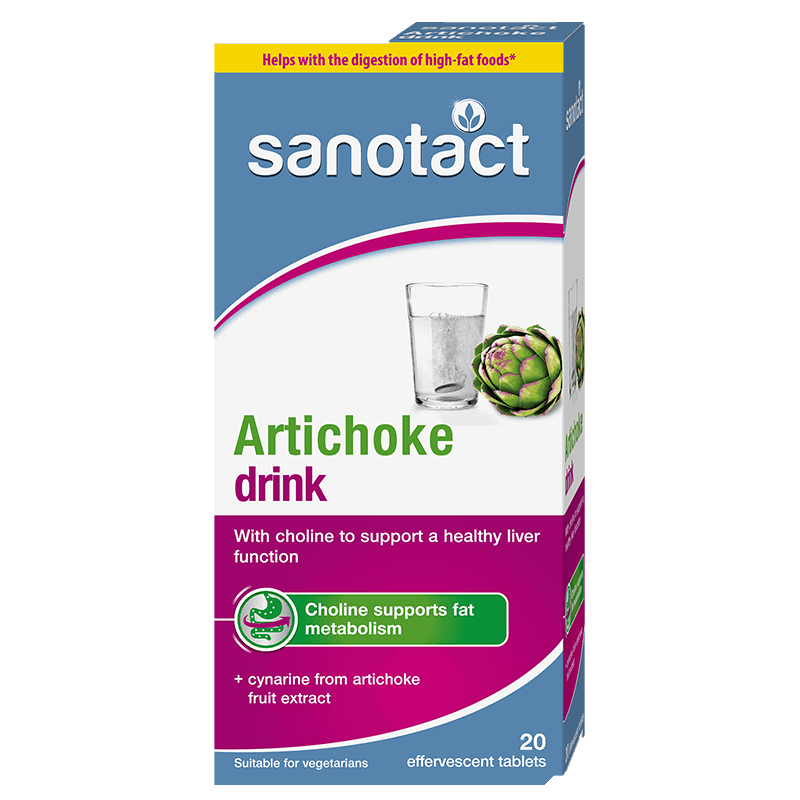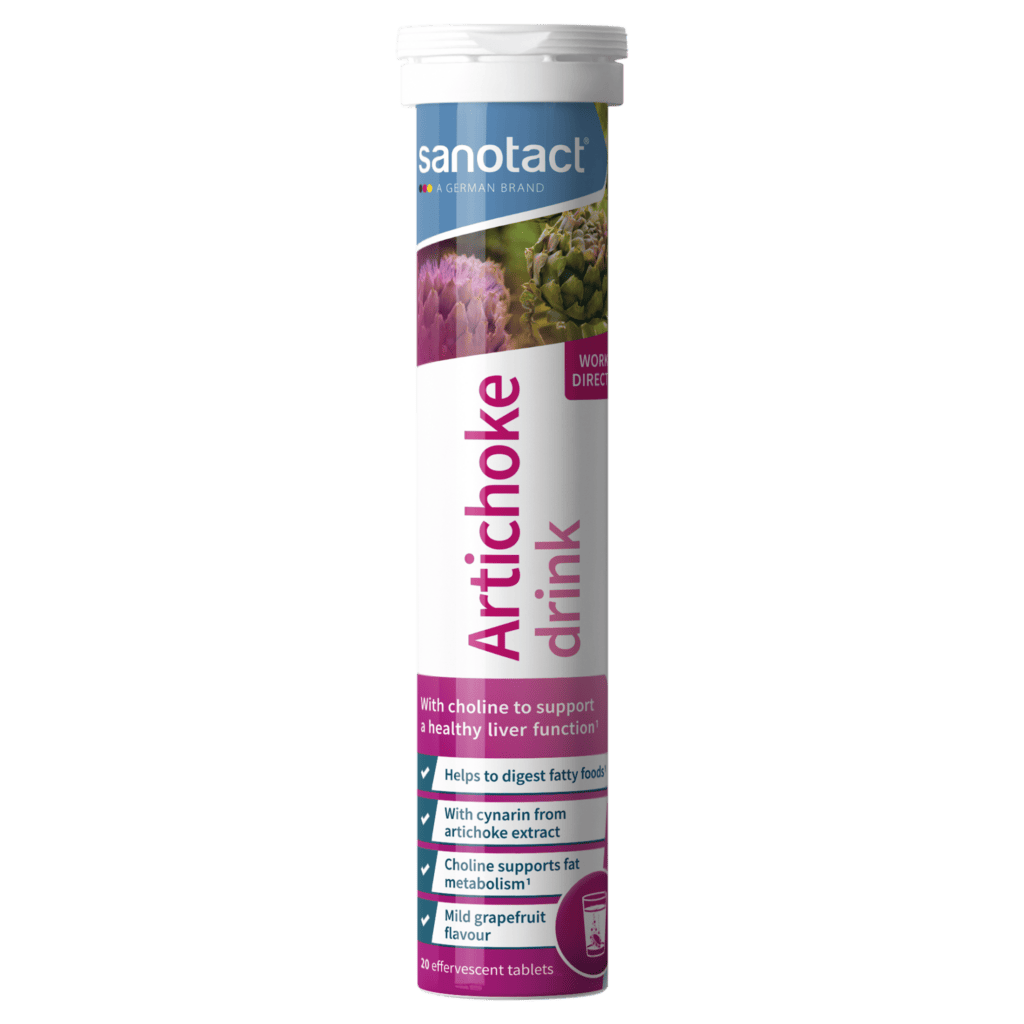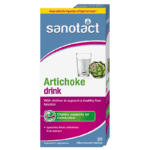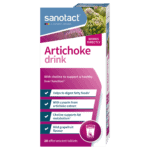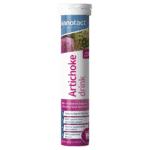 sanotact® Artichoke Drink supports fat metabolism with choline.
Heavy meals often cause digestive problems
Who doesn't know that unpleasant feeling of fullness after heavy and fatty meals or when you've simply eaten too much? Our digestive system is very sensitive and is therefore quickly stressed. Nevertheless, one of the most important prerequisites for our health is an intact metabolism.
Whether before or after such meals – you can give your digestive system a little help and thus enjoy your celebrations or meetings with family, friends, business partners or simply a heartier dinner at home.
Combination of choline and cynarin help digest heavy foods
sanotact® Artichoke Drink Effervescent Tablets support fat metabolism and liver function thanks to the choline it contains. As an endogenous substance, choline is involved in the transportation of cholesterol and fat in the body.
In addition, the effervescent tablets contain an extract of 3,600 mg of fresh artichoke per daily dose. Artichokes are known for their cynarin content and are often used in light Mediterranean cuisine. The natural bitter substance of the artichoke (cynarin) is widely known to support the secretion of bile/bilde acid and thus contribute to fat digestion.
With its mild grapefruit flavour, the effervescent tablet not only supports our liver health, but also serves as a delicious refreshing drink.
sanotact® Artichoke Drink Effervescent Tablets are free from colourings and are gluten-free and lactose-free.
acid citric acid, acidity regulator sodium hydrogen carbonate, bulking agent sorbitol, flavourings, artichoke fruit extract (3.6 %), choline bitartrate, sweetener sodium cyclamate, sweetener sodium saccharin, anti-caking agent silicon dioxide
Dissolve 2 effervescent tablets in a glass of water (300ml) and enjoy immediately before or after meals.
The recommended daily intake must not be exceeded. Dietary supplements are not a substitute for a balanced and varied diet and a healthy lifestyle.
Keep out of reach of small children.
| Nutritional information | per tablet | per 3 tablets |
| --- | --- | --- |
| Choline | 124 mg | 372 mg |
| Artichoke fruit extract | 150 mg | 450 mg* |
| thereof cyanine | 3.75 mg | 11.3 mg |
* NRV: Reference quantity according to EU Food Information Regulation
sanotact® quality... guaranteed!
Our quality standards
As a manufacturer of food supplements, we meet the most stringent requirements when it comes to food safety. Certification according to the International Food Standard (IFS) at Higher Level is therefore both a promise and an obligation for us. Furthermore, as a manufacturing company, we have our own high quality standards. On a daily basis, we endeavour to live up to these standards at our production site in Münster (Germany).
Our quality promise
We ensure the seamless monitoring of our entire production process. From the raw material to the finished product, the quality of the products is checked at all stages of production in our own laboratory. This is because we are committed to ensuring that our products offer the highest level of quality and safety for our customers. Our quality guarantee is a promise that we make to earn our customers' trust.
Making sure you are happy
We really hope that our brand and our products are everything you need and have been hoping for. This is what we are endeavouring to achieve now and we will continue to do so in the future. Nothing makes us happier than keeping you happy! We are always grateful to you for passing on your comments and suggestions to us. This enables us to take your needs into consideration when developing products in the future wherever possible.
Digestion and intolerances
When your gut feeling isn't right
The digestive tract of an adult human being is up to nine metres long. Our food usually passes through it without us noticing. We only become aware of our digestive system when it causes problems. Find out what can cause these problems in our advice.