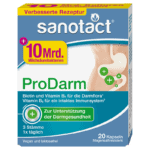 sanotact® Bowel Protect with 10 billion lactic acid cultures from 3 strains – for healthy intestinal flora and to support the immune system.
Lactic acid bacteria and an intact intestine
An intact intestine is one of the most important prerequisites for good health. Our intestinal flora consists of several billion microorganisms, including the bacteria of the digestive tract, bifidobacteria and lactobacilli. They are involved in many ways in digestive, metabolic and immune processes and have a great influence on our wellbeing.
Stress, special eating habits, food intolerances or the intake of medication influence our intestines. If the intestinal flora is disturbed by such influences over a longer period of time, the intestinal mucosa changes.
Three strains with 10 billion lactic acid bacteria in a single capsule
sanotact® Bowel Protect contains 10 billion live, lactic acid-producing bacterial cultures of the strains Bifidobacterium animalis ssp. Lactis, Lactobacillus rhamnosus and Lactobacillus casei.
The enteric-coated capsule provides optimal protection against stomach acid and ensures the effect in our intestines. The capsules contain vitamins B2 and biotin which contribute to the maintenance of normal intestinal mucosa, thus helping to support intestinal health. Vitamin B6 contributes to a normal function of the immune system.
sanotact® Bowel Protect capsules are gluten-free, lactose-free and vegan.
bulking agent maize starch, glazing agent hydroxypropylmethyl cellulose, lactic acid bacteria (lactobacillus plantarumDSM 6595, lactobacillus rhamnosusDSM 6594, lactobacillus caseisubsp. caseiSD-5842, lactobacillus acidophilus SD-5212, lactococcuslactissubsp. lactisSD-5848, bifidobacteriumlongumSD-5844), anti-caking agent magnesium salts of fatty acids, glazing agent gellangum, anti-caking agent silicon dioxide, pyridoxinhydrochlorid(vitamin B6), riboflavin (vitamin B2), colourtitanium dioxide, D-biotin
Take 1 capsule daily with some liquid over a long period of time. As an intensive cure, take 3 capsules daily.
Do not exceed the recommended daily intake stated. Food supplements do not replace a balanced, varied diet and healthy lifestyle.
Keep out of reach of small children.
Nutritional information
per capsule
NRV*
per 3 capsules
NRV*
Lacticacidbacteria
(L. plantarum, L. rhamnosus,
L. caseisubsp. casei, L. acidophilus,
L. lactissubsp. lactis, B. longum)
8 billionCFU**
–
24 billionCFU**
–
Riboflavin (vitamin B2)
1.4 mg
100%
4.2 mg
300%
Vitamin B6
1.4 mg
100%
4.2 mg
300%
Biotin
50 µg
100%
150 µg
300%
* NRV: Reference quantity according to EU Food Information Regulation
** CFU: Colony Forming Units
sanotact® quality... guaranteed!
Our quality standards
As a manufacturer of food supplements, we meet the most stringent requirements when it comes to food safety. Certification according to the International Food Standard (IFS) at Higher Level is therefore both a promise and an obligation for us. Furthermore, as a manufacturing company, we have our own high quality standards. On a daily basis, we endeavour to live up to these standards at our production site in Münster (Germany).
Our quality promise
We ensure the seamless monitoring of our entire production process. From the raw material to the finished product, the quality of the products is checked at all stages of production in our own laboratory. This is because we are committed to ensuring that our products offer the highest level of quality and safety for our customers. Our quality guarantee is a promise that we make to earn our customers' trust.
Making sure you are happy
We really hope that our brand and our products are everything you need and have been hoping for. This is what we are endeavouring to achieve now and we will continue to do so in the future. Nothing makes us happier than keeping you happy! We are always grateful to you for passing on your comments and suggestions to us. This enables us to take your needs into consideration when developing products in the future wherever possible.
Digestion and intolerances
When your gut feeling isn't right
The digestive tract of an adult human being is up to nine metres long. Our food usually passes through it without us noticing. We only become aware of our digestive system when it causes problems. Find out what can cause these problems in our advice.